Sound of Belgrade – Multimedia art installation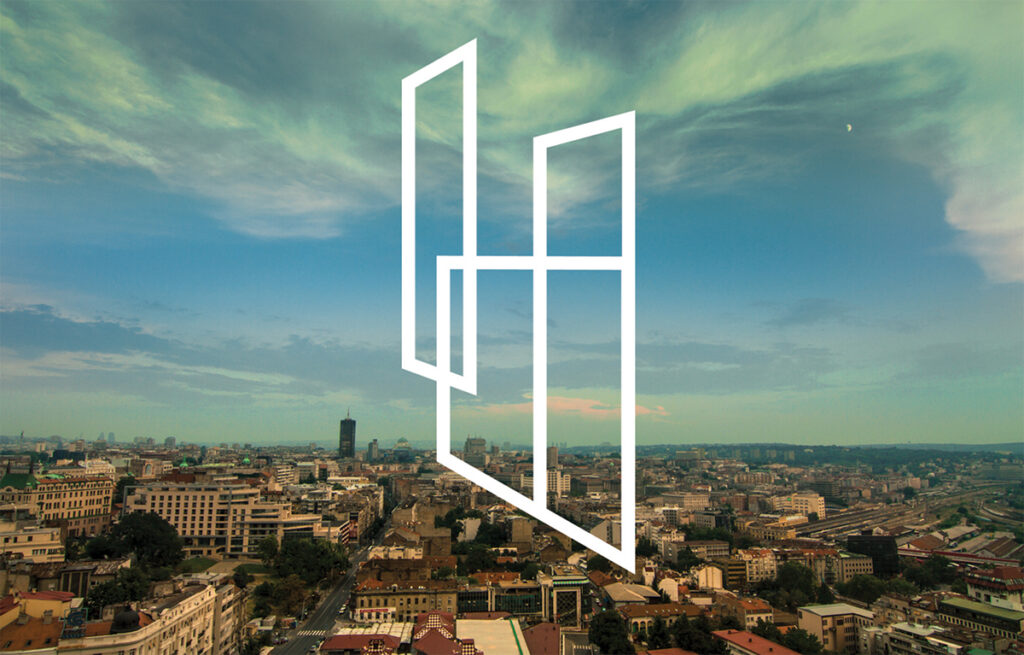 Sounds of Belgrade – merging of sounds and sights in a multimedia piece, represents my final art project of multimedia doctoral studies at University of Arts in Belgrade. It is materialised in the form of a multimedia installation, consisting of three basic media elements: sound, video and sculpture. The theme aspect of this study deals with merging of sounds and sights of Belgrade in a multimedia piece by describing how my visual and sound fascination of Belgrade have found optimum media interpretation. I recorded over 800 different authentic sounds of Belgrade, and made them into a electroacoustic music form. That music became soundtrack of my multimedia piece. Visual part of piece include video artwork made by over a 1000 shots of Belgrade sights, edited and merged into experimental video form, and represented as mapped video projection on the sculptural elements of installation. Shapes and compositions of sculptures symbolized urban city area. Sculpture constructions was made by over the 900 kilograms of steel and over the 200 m2 of gypsum boards. Pe were represented in the public area, at a Belgrade city center – Knez Mihailova street, in september 2013.
---
Just Machine's Heart – interactive video sculpture
"Look into Just Machine's Heart, and show your identity to everyone except yourself.You will find your identity only if you look into your own heart."
Just Machine
---
ConCerto BWV 1052 – multimedia art installation
ConCerto BWV 1052 is a multimedia installation consisting of two media elements:
Sculptural element, in the form of wall sculpture and
Audio element, reproduced by Ishuffle device and headphones.
Sculptural element represents the first bar of the first concerto for harpsichord, composed by German composer Johann Sebastian Bach called Concerto BWV 1052 (Alegro). Notes that "making sculpture live", made from 8 Certo-Phot camera, made in Germany, who are the main actors in this installation and soloists-performers. In the title of the work lies the meaning of this installation in which Certo-Phot together with orchestral accompaniment performed the first bar of this famous Bach's concerto.
Audio element is a reproduction of a sound piece, in which Certo-Phot together with orchestra, performed the first bar of particular concert. The sound of soloists is actually authentic, recorded and modulated sound of the shutter (clicking) of real Certo-Phot camera.
---
Konkretizator III – Belgrade Street Musicians – Interactive audiovisual installation
Konkretizator is an interactive art installation that allows visitors to create their own audiovisual music. Musical form, which occurs direct participation of the audience, relying on the principles of "concrete music" presented by eminent composer Pierre Schaeffer in Paris, 60 years ago. These principles are reflected in the specific method of music composing, which involves the use of the recorded sound from real environment. Development of digital technology, electronic devices and computers, has led us to high level of sound/video manipulation ability. That fact prompts many artists around the world to engage in audiovisual experiments on order to create multimedia pieces.
One button – one sound – one video
By pressing buttons on the specific reorganized keyboard, audience trigger sounds and video shots. Every button has their own video and linked sound. Keyboard buttons order are similar with the windows witch are made from semi-transparent plexiglas panels. Panels are hanging between keyboard and video projector in rear mode of projecting. Speakers are in the front.
Playing audiovisual music
Ones you press the button from the left side of keyboard, triggered sound and video start to show in specific time intervals, in the loop, every time in the same window. By pressing another button, you can add another sound/video in the arrangement, in the cycle, as well. Frequency of looped sounds/video is created with music/metric sense, letting audience to create music even if they aren't musicians. Sounds/videos have different loop intervals, and they'r fixed by author.
Exhibitions
"Visemedijska Umetnost" ("Multimedia Arts") / Paviljon Cvijeta Zuzoric (ULUS), Belgrade, Serbia, 2014
"Noc Muzeja" / Location: Umjetnicki Paviljon (ULUCG), Podgorica, Montenegro, 2012
"S.U.T.R.A" / Location: Gallery od National Bank of Serbia, 2010